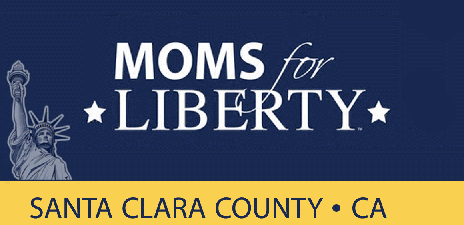 News
Find here news from the trenches...
Have news you'd like to see shared here? Please let us know.
2023
February 2023 - Daily Post: Violation: California's Math Placement Act. A judge has found that the Palo Alto Unified School District is violating the state's Math Placement Act, effectively holding students back from taking more advanced classes.
January 2023 - Daily Caller: 'No Safeguards': Parents Rally Against California High School That Hosted Lecture On Raising Transgender Kids
January 2023 - TimCast.com: EXPOSED: MASSIVE Grooming Scandal In Public School, HUNDREDS Of Kids Abused by Teachers. Report confirms grooming is happening and children are being systematically abused. James Lindsay explains the issues around woke gender ideology and a new report corroborates many of the claims. Many of the stories posted by LibsOfTikTok and others seem to back up the report in shocking detail.
January 2023 - Libs of TikTok: REVEALED: California school district facilitating gender transitions on children without parental consent
Documents obtained through a recent FOIA request reveal that a California school district partnered with a healthcare facility to provide children with gender transition hormones and surgeries without parental consent. The school district, DJUSD and CommuniCare are providing these services under the guise of a "mental health program" for K-12 students. According to CommuniCare's website, they offer cross-sex hormone medications like testosterone, estradiol, and spironolactone, letters for medical clearance to undergo transition surgeries, and assistance with legal name and gender documents.
January 2023 - For Kids & Country: The Sandstorm: The Education Battlefield
January 2023 - Breitbart: California School Board Bans Critical Race Theory Right After Being Sworn In
2022
December 2022 - New York Post: 'California school official resigns after inviting teens to 'adult party'
November 2022 (National) - Washington Examiner: 'Most dangerous person in the world': Pompeo bashes head of teachers union
November 2022 - First tabling of the Moms for Liberty Santa Clara chapter at Liberty Forum...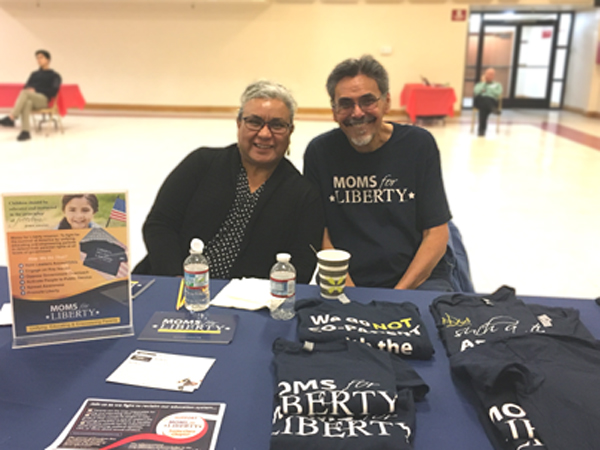 November 2022 (National) - Post election coverage:
October 2022 - On October 29th Campbell library hosts Drag Queen Story Time. We need to be able to offer alternatives to this sickness.
October 2022 (National) - On October 24th NBC News released a featured story, saying "Liberal parents are joining the school culture wars - but conservatives are way ahead." With considerable concern, NBC warns the nation that the conservatives are taking over and that so-called "progressives" need to get in the game. "Multiple progressive groups are campaigning for school board candidates and training parents to become activists, but conservatives have a head start," they say. The call to action was given, of course, under the guise of "news."
October 2022 (National) - Florida continues to lead the way, showing other states how to deal with activist teachers.
October 1 2022 - The Santa Clara Chapter of Moms for Liberty comes online.
September 2022 (National) - CBS Saturday Morning claims Moms for Liberty is "banning" books. Not true. We provide information about books parents should be aware of. It is not up to us to say what books should or should not be read by kids. That is up to parents. Watch the video.
September 2022 (National) - Steve Bannon and Moms for Liberty co-founder Tiffany Justice discuss reading and math scores plummeting to a 30 year low. Watch the video.
August 2022 (National) - The Political Insider interviews Moms for Liberty co-founders Tina Descovich and Tiffany Justice about the impact Moms is having on public education. Watch the video.
August 2022 (National) - A book in a Tampa middle school library is found to promote a gay lifestyle, complete with Instructions on anal sex and the use of "hookup" apps. Read the article.
Joyful Warriors Podcast Episodes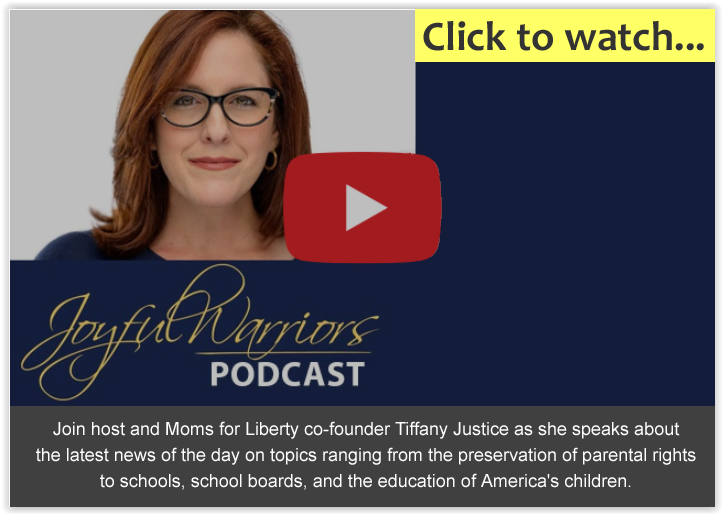 Legislation
Here are bills we are keeping track of...
H.R.8731, the Protect Children's Innocence Act. The bill would make it a federal crime to perform gender reassignment surgery on anyone under 18 years of age.
H.R.7780, the Mental Health Matters Act. The bill creates various grants to increase the number of school-based mental health services providers, establishes requirements for institutions of higher education concerning students with disabilities, prohibits arbitration and discretionary clauses in employer-sponsored benefit plans, and establishes an occupational research program on mental health.